Status: As of March 7, 2023 we are nearly sold out of nucs and queens for spring 2023. We have 5 overwintered nucs still available, and can take a few more orders for spring nucs or queens as well.
Customer report: "Hey Michael, Just a quick update on the nucs I bought this spring. Both are thriving I have 18 frames of drawn comb on both hives. I am still feeding both hives 1.5 gallons 1:1 on a weekly basis. They are very gentle easy hives. The queens are doing a bang up job. One hive is doing a little better than the other as far as stores go, but both are really strong. I am going to do a mite wash this weekend and then treat accordingly. I will switch over to a 2:1 come October and feed until November. I have us no other issues whatsoever ever. Is there anything else I should be doing this time a year to prepare them for winter? Thanks for providing such a good start into my beekeeping experience!"
November 2021 Update: We had some issues with European Foulbrood (EFB) this year. We were careful to quarantine the infected hives, make our splits from EFB-free hives, and verify solid healthy brood before selling any nucs. Although we thought we had gotten rid of all the EFB this spring, some of the splits we made and kept showed EFB later in the summer. This was disappointing and we are limiting the number of nucs we sell in spring of 2022 to help make sure we get rid of the EFB and don't pass it on to any of our customers.
I suggest having your equipment assembled and painted for next spring before the weather gets cold in the fall.
The Process:
Contact us at any time to reserve a nuc next spring
Drop off your box by April 30.
Wait for a call that your nuc is ready for pick-up (probably around late may or early June).
We sell on a first come first served basis, so we can put you on our waiting list at any time and let you know in March if we are able to supply you. Also feel free to contact me if you need an emergency queen in the summer and can pick it up on site or meet me at an event.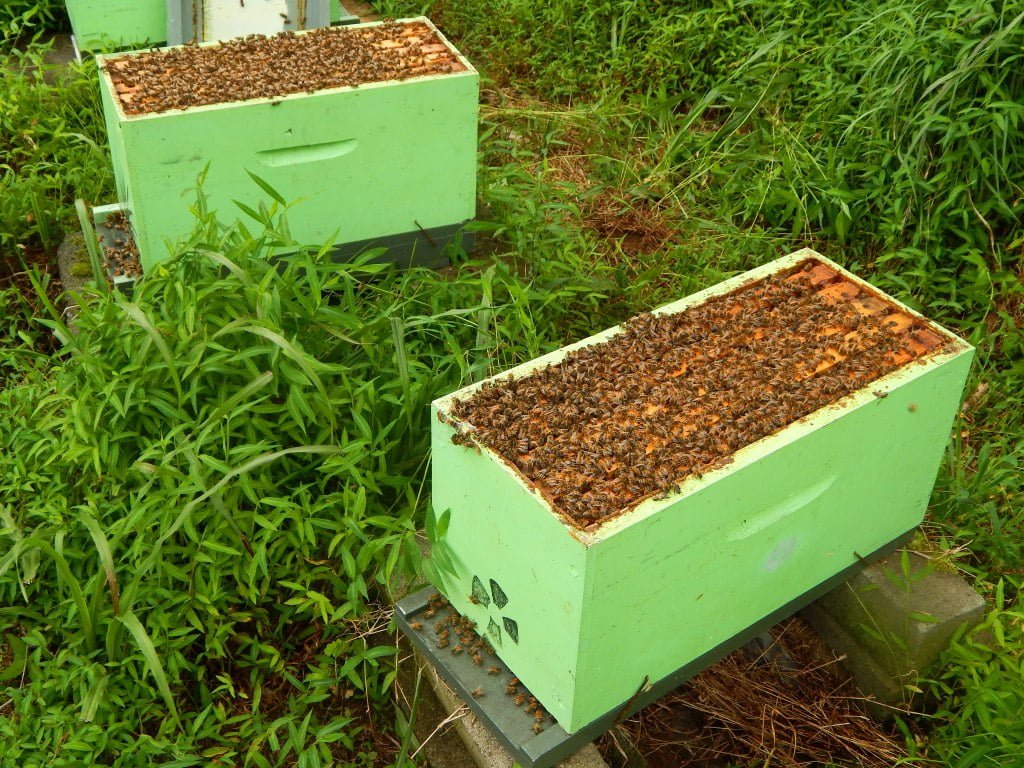 I do not rush my queen rearing in the early spring. I wait until drones are flying before I graft to ensure super-abundant drones, nectar and pollen, and to maximize the chances of warm weather for flight and mating. This mimics the natural swarm cycle when bees reproduce during optimum conditions for optimum queen performance. I also identify capped worker brood before delivering your nuc so that you do not end up with a drone layer.
Typically our customers assemble and paint their equipment and then drop it off at my house on (or any time before) April 30. Include a ratchet strap, include a way to close the entrance to your hive, and make sure the hive will have sufficient ventilation when closed. Put your name on your box and/or lid. This way I can install the nuc in your box and have it ready for pick-up when you arrive.  Contact us to make arrangements and get directions.
The hive can be any size (10-frame, 8-frame, 5-frame) and should be in good condition. Depending on what size nuc you order you can subtract that number of frames from your box. For instance, if you are purchasing a 5-frame nuc and installing it into an 8-frame box, bring your box with 3 frames of foundation. Bring frames of foundation only, please no comb. I typically make up nucs with deep frames, but I can make a limited number with IL medium frames if you specify. I install the split into your boxes and raise a queen for you from our own local survivor stock, then notify you to come pick them up when the queen is laying a good worker brood pattern – usually around the end of May, sometimes early June. Please pick them up promptly so they do not swarm. 🙂
Prices:
For 2022 the price is $230 for a 5-frame nuc and $200 for a 4-frame nuc. Queens are $40 each. There is no price difference between deep and medium frames. All queens are marked automatically at no additional cost, however I can leave yours un-marked if you specify. If you would like to purchase them in a temporary (cardboard) nuc box rather than your own boxes it will be an additional $15. You can keep the box and this saves you a trip. Note: orders for these nucs in temporary boxes must be given to us by the end of February. (Disclaimer: prices are subject to change.)
5-frame nuc in your box: $230
5-frame nuc in cardboard nuc box: $245
4-frame nuc with marked queen in your box: $200
4-frame nuc in cardboard nuc box: $215
Overwintered nucs:
Sometimes we may have overwintered nucs available – these are available earlier with potential to produce honey and additional splits the same year – it's like you bought the hive last year without having to grow and overwinter it. These are likely available some time in April depending on the weather. Note: we do not recommend overwintered hives for beginners. You should have experience splitting and supering and being on time with your management in order for these to be a worthwhile purchase.
Overwintered 5-frame nuc in your box: $285. (Contact us about availability)
Overwintered 5-frame nuc in cardboard box: $300. (Contact us about availability)
FYI: Overwintered nucs may not be the best colonies to breed from – we are selling them because they do not measure up to one or more criteria – they will be healthy at time of sale, but perhaps they had higher mite loads the previous summer and were treated, or were a little more defensive than we like.
Call right away if you need any. I am not into shipping nucs by conventional postal services, but if you or your group would like to order 10 or more nucs, I am willing to drive them a limited distance for an additional fee. We take calls or e-mails if you have any questions. Contact us here!
We have had very good reports from our customers so far. Of course we cannot guarantee any trait due to the natural open-mating of the queens. If you ever experience any problems with our service or products, please notify us first thing. We would like to do all we can to make you successful.
We've got bees and honey! We provide our local area of north-central West Virginia with honey, and help other folks get started with beekeeping too. We believe our honey is the best that money can buy for our local area. Learn More »
"Pleasant words are as an honeycomb, sweet to the soul, and health to the bones." ~ Proverbs 16:24